HOME > ACT > Home
---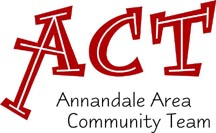 ---
The Annandale Area Community Team (ACT) was formed in 2002 by a diverse group of dedicated area citizens. The original group received leadership training in 2003 through the Healthy Communities Partnership Program of the Central Minnesota Initiative Foundation, learning how to reach out and engage local citizens in developing a shared vision and integrated plan for a brighter future in Annandale. At a visioning session in 2003 the group identified plans for the community which resulted in four individual ACTION TEAMS, and two more ACTIONS TEAMS were added later, in 2007 and 2009.
ACT Arts – The Arts Action Team seeks to promote, plan and provide artistic and cultural events in the Annandale area. Wendy Webb and Laura Hood Beckman 320-274-3889 hoodbeck@lakedalelink.net, Action Team Co-Leads ACTIONS
ACT Community Center – The Community Center Action Team strives to provide a facility in the Annandale area for the general public as well the as the school district for the purpose of leisure, health promotion and civic meeting space. Marlene Young, Action Team Lead 320-274-5351 myoung@lakedalelink.net
ACT Skateboard Park – The Skateboard Park Action Team strives to bring a skateboard park to Annandale. Maggie Frieberg, Action Team Lead
ACT Heart of the Lakes Trails – The Heart of the Lakes Trails Action Team strives to develop an extensive trail system in and around the Annandale area that will provide for the health, safety, and recreation needs of the community. Renee Cardarelle, Action Team Lead 320-248-4629 r.card@live.com
ACT Discover Downtown Annandale – The Discover Downtown Annandale Action Team is committed to promoting and improving the Downtown area of Annandale. In 2012 the DD Team dedicated their newest project, Clock Tower Park on Main Street Annandale. Amy Sparks 320-492-1436 and Sue Thwing 320-420-3513 and Patty Knight, Action Team Co-Leads ACTIONS
ACT Beach House Annandale – The Beach House Annandale Action Team is dedicated to providing supervision of the beach house at the municipal park on Pleasant Lake. Marlene Young – Action Team Lead 320-274-5351 myoung@lakedalelink.net
---
Join any of the ACTION TEAMS by contacting ACT Chair, Marlene Young 320-274-5351 myoung@lakedalelink.net
---
ACTION TEAM ACCOMPLISHMENTS:
Portable Performance Stage
Summer Concert Series in the Park
Downtown Art Crawl
Bike paths and walking paths
Petals & Palate Garden Tours
Holiday Home Tours
Beach House Annandale on Pleasant Lake
Downtown Farmer's Market, weekly in the summer
Style shows
Banners/Flags on Main Street
Outdoor Public Art
Clock Tower Park
---
ACT OFFICERS
as of January, 2012
Marlene Young, Chair
Laura Hood Beckman, Vice-Chair
Renee Cardarelle, Secretary
Marlene Young, Treasurer
The ACT Board made up of current ACT officers plus the Action Team Leads meets quarterly.
---
ACT MISSION STATEMENT: Annandale Area Community Team (ACT) will promote and facilitate community visioning with positive changes by engaging area residents in grassroots involvement.
---
The Annandale Area Community Team (ACT) was formed in 2002 by a diverse group of dedicated area citizens. The original group received leadership training in 2003 through the Healthy Communities Partnership of the Central Minnesota Initiative Foundation.
ACT is now a 501(c)3 non-profit organization, EIN # 16-1719595. Mail to: ACT, P.O. Box 596, Annandale, MN 55302
---

---