Annandale Airfield, Ken-Toby Flying Service
Presentation to the Annandale History Club
March 6, 2017
Garry Elfstrand
---
Not many people remember that there was an airfield in Annandale. It was located on the W.D. "Dudley" Tobin farm in Section 29, Corinna Township, where David Ferrell and Marvin Smith opened Eastview Mobile Home Park in 1973.
Dudley Tobin owned and operated the Annandale Pool Hall with his father Jim in the early 1930s. They also operated Toby's Liquor Store in Annandale in the late 1930s, later known as Arney's Bar, JJ's for a very long time, and is now Annandale Roadhouse.
Dudley Tobin (1909-1994) bought a farm in Annandale in 1941, 80 acres at first and then another 80 acres. He operated an airport, hangar and landing strip on the farm from 1946 to 1958. The airport operations were managed by Dudley Tobin and Kenny Bullock. Dudley was an experienced business manager having successfully operated a saloon for 11 years. Kenny Bullock, a 1939 Annandale grad, learned to fly while a student at St Cloud Teachers College before he enlisted in the Army Air Corps in 1941 during World War II. He graduated pilot school in January 1944 and was a P-47 Thunderbolt fighter pilot. He flew 47 combat missions in the European Theatre.
The first plane at the Annandale airfield was a Taylor T-Craft monoplane bought in 1946 for $2,000. Later a J-3 Piper Cub was purchased. Standard airport support was available including fuel, mechanical service, hangar and tie-down space. Flight lessons and training, crop dusting, and cargo carrier services were provided by Kenny Bullock. Kenny Bullock (1921-2002) moved to Richmond, Virginia, to start a cargo air service and teach flying at Parnell Field. He later moved to Alexandria, Virginia, but kept his ties with Annandale.
Annandale Advocate, April 18, 1946: "The Ken-Toby Air Service has established that its use is of benefit to local farmers. A local farmer broke a gear in his tractor last Friday, but no replacement parts were to be found in the area. The farmer went to Howard Lake, but no parts were available there either until one was located in Monticello. To drive from Monticello to Howard Lake would have taken at least two or three hours, but Kenny Bullock was contacted and told where to drop the part, and within less than an hour the mission was accomplished"
Annandale Advocate, May 9, 1946: "Kenny Bullock and Dud Tobin, proprietors of the Kentoby Flying Service, took part in a 'breakfast flight' in Albert Lea on Sunday morning. The pre-dawn flight is a race to see which plane will arrive at a designated airport first. Out of a field of 49, the local men arrived second. The first-place pilot was flying a larger and faster ship. The two left here in their cub at 4:40 a.m. and arrived at 6 a.m. after flying 110 air miles. The citizens of Albert Lea had the opportunity of seeing the 49 planes fly in mass formation over the city."
Annandale Advocate, June 6, 1946: "In keeping with the times, local people are becoming more and more 'air-minded' and with the air strip so nearby, aviation is meeting with encouragement. W.D. Tobin was among the first local men to take flying lessons, and it is he who has provided the airport a short distance east of Annandale. Tobin is one-half of the Kentoby Air Service, along with partner Kenneth Bullock, a former Army air pilot."
Annandale Advocate, June 20, 1946: W.D. Tobin, member of the Kentoby Flying Service, moved some buildings from the east end of his farm to the edge of the landing field. They will be converted into an office and a hangar. Mr. Tobin says that they are making arrangements to obtain a government contract for training veterans to secure private licenses.
There was a five-member club, the Annandale Flying Club, that was made up of Doc Bendix, Cliff Juetten, Wendell Ponsford, Norman J. Planer and Dudley Tobin. According to Norm's son, Norman G., membership later dropped to three members, Doc Bendix, Norm Planer and Wendell Ponsford. Wendell didn't fly.
Ralph Akins, former Annandale resident, kept his plane in a hangar there. Grace Tobin Samuelson said that Ralph was a fixture at the airfield spending a lot of time there with the guys and helping out with routine chores. Ralph had also been a pilot in World War II.
(Grace Tobin Samuelson provided information and Norm Planer provided a picture of his dad by the airplane. Information from Annandale Advocate articles was added.)
Notes by Annandale History Club Secretary
---
Obituary: Annandale Advocate, 12.11.2002 - Kenneth Bullock
Kenneth Bullock, 81, of Alexandria Va., died of cardiac arrest, Friday, November 15, 2002, at Alexandria Hospital, Va.
Mass of the Ressurrection as performed with Fr. John Riley and Fr. Weyem officiating, at St. Louis Catholic Church. He was buried at Mount Comfort Cemetery in Alexandria, Va. On November 22. His sister Marie from Annandale attended the funeral, as did his sister Carol of Fridley. Kevin Johnson (formerly of Annandale, ow of Brooklyn Center), Marie's son and Ken's nephew sang. Ken's nephew Mark Johnson, of Annandale, also attended the funeral.
Survivors include his daughter, Mondie Gallagher of Chantilly, Va., and his son, Roger Bullock of Alexandria, Va., six grandchildren, and his sisters Marie Johnson of Annandale, and Carol Mack of Fridley.
Ken's wife, Dana Bullock, preceded him in death in May 2000.
Born in Winnipeg, Manitoba, Mr. Bullock was raised in the town of Annandale, in Wright County, Minnesota, where his family acquired the family farm under the Homestead Act. He played drums in the Annandale High's School Band starting in the fourth grade, and graduated in 1939. He studied mathematics and physics at St. Cloud Teacher's College and learned to fly at the local Whitney Memorial Airport. He entered the Army Air Corps in 1941 and served in World War II, as a P-47 Thunderbolt Fighter Pilot with the 9th Air Force, 362d Fighter Group-378th Fighter Squadron, and as a test pilot as Wright-Patterson Field in Dayton, Ohio. He flew 47 combat missions in the European Theater. Ken's forward air strike exploits over Germany were filmed in color in response to General Hap Arnold's order that the closing months of the air war over Europe be documented. In May, 2001, Ken was featured with three other P-47 pilots in the History Channel special: "Thunderbolts: Conquest of the Reich" produced by Larry Bond of Paris, France. Much of the film featured actual footage of Ken's dog fighting and strafing as the American forces supported General George S. Patton's military crossing of the Rhine River for the first time since Napolean. Ken was interviewed for the program and provided narration in the film. Following the war, Mr. Bullock returned to Annandale to teach flying, provide crop dusting and cargo carrier services, and to play piano in the "Jive Bombers" music group. A year later he relocated to Richmond, Virginia, to start a cargo air service with a friend and to teach flying at Parnell Field. There he met and married his late wife, Dana. They moved to Alexandria, Va. In 1954 where they raised two children. He was Branch Manager of Seaboard Finance Company (later Avco Financial Services" and Liberty Loan Corporation on King Street. He continued to fly during the 1950s and into the 1960s. In early 70s, Ken transitioned to a Marketing Manager position with BAP-GEON Imported Car Parts in Merrifield, Va., a British based company. He designed and developed their marketing information systems and was later employed in a similar capacity with RTM Distributors in Chantilly, Va.
---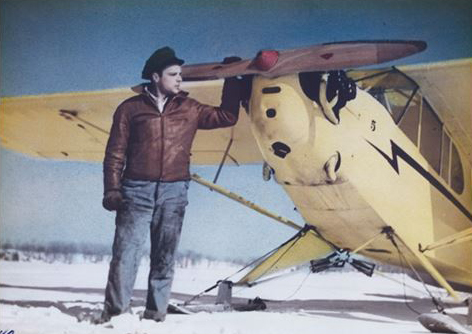 Norman Planer with his airplane on skis at
Ken Toby Airfield